International competition! What is the potential of the African bearing market?
At present, the African demand of the bearing is only1% of the word, but the development of automobile industry, constructionindustry and oil and gas industry and so on, which bring the new industrialvitality for African bearing market. Among them, South Africa is the biggestconsumption country , mining bearing is the main. African bearing market is mainlyoccupied by the SKF,FAG and Japanese bearings. Recent years, the demand of bearingis rising about Chinese , Romania, Czech republic and Russia bearings. Bearingscoming from these countries begin to compete for market share.
At present, theAfrican bearing market is mainly dominated by South Africa, Nigeria, Egypt andAlgeria. According to overseas media reports, South Africa's bearing market hasgreat potential, with annual sales of about us $200 million to us $280 million.Most of the bearings currently used in South Africa are imported, mainly fromEurope, the United States and the far east. Major bearing importers in SouthAfrica include BearingMan, ina-fag, SKF and Timken. BearingMan has about athird of the market in South Africa.
According to the china-africa trade research center,the global bearing market was worth $75.91 billion in 2014, and the globalbearing market is expected to reach $101 billion by 2018, with a compoundannual growth rate estimated at 7.7 percent from 2014 to 2020. The bearingmarket for industrial original equipment accounts for about 40 per cent ofworld demand, including manufacturers of machinery and equipment in lightindustry and heavy industry, as well as manufacturers of aerospace, non-roadand rail vehicles. About 30 per cent of world bearing demand is maintainedthrough the sale of distributors (industrial distribution and independentautomotive aftermarket), of which about 25 per cent is related to theautomotive service market and about 75 per cent is related to the industrialmarket.
At present, the African bearing market is mainlydriven by the growing demand of the automobile industry, and the increase ofautomobile production in Africa has greatly increased the demand for automobilebearing. In addition, the growing demand of the steel industry, railways,defence and aerospace industries has contributed to the growth of the Africanbearing market, while the processing industry's demand for energy efficiencyhas greatly increased its demand for bearings.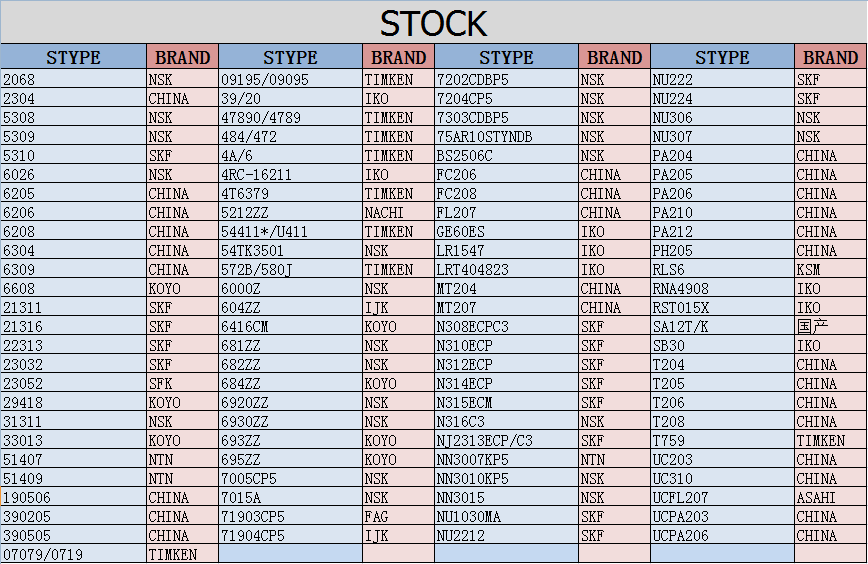 Sign up for our newsletter to stay up-to-date with our promotions, discounts, sales, and special offers.