Home
>
News
>
Company News
>
SUNBEARING Is Interviewed At The Exhibition--Rich Experience, Good Product
SUNBEARING Is Interviewed At The Exhibition--Rich Experience, Good Product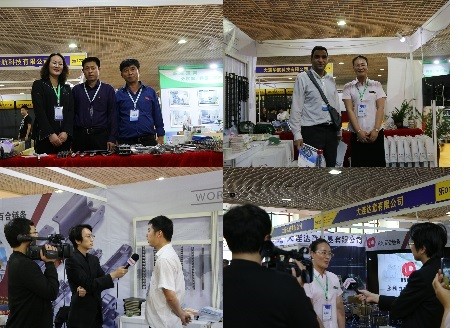 【Dalian exhibition】20th Dalian GONGBO Exhibition hold in Xinghai exhibition center at weekends. SUNBEARING is an enterprise engaged in bearing industry for 18 years, have rich experience of joining exhibition. According to "strong-strong partnership",SUNBEARING has a great improvement. Once cooperate with the Chinese famous enterprise, such as Konica (Dalian) co., LTD., Fuji electric (Dalian) co. LTD., northeast special steel group - Dalian special steel products co. LTD. and so on. There is a lot of praise from lots of companies. 2011, SUNBEARING has been cooperate with Timken as a single agent in Dalian, to serve the clients in Dalian and around. In 2013,signed with FAG who is very successful all over the word. In 2017, for expanding the international trade to establish the department of foreign trade and set up brand---SUNBEARING, self-owned brand. In the short term, it is very successful because of exporting to US, Russia, Canada and India etc.
In2017, SUNBEARING cooperate with UNIBEAR to be the only one partner in Dalian. Because of the lack of supplier of chains in Dalian, this cooperation is satisfied for the Dalian's clients. We have introduced stereo garage chain, heavy equipment chain, food industry and special process chain. This cross-provincial cooperation not only provides many Dalian enterprises with better chain products, but also takes a big step in the development of Dalian chain industry.
During the exhibition, CRTV---Chinese Reporting TV, a famous TV station, came to interview and make relevant reports.
SUNBEARING is your best supplier in China.

Sign up for our newsletter to stay up-to-date with our promotions, discounts, sales, and special offers.