Q: What Are The Characteristics of Corrosion-resistant Bearings?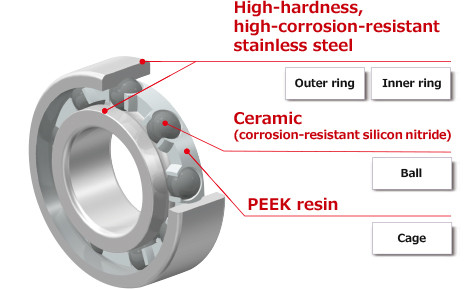 A: Bearings that work in corrosive media. Mostly made of stainless steel. Generally, bearings that work in oxidizing media, such as seawater, fresh water, water vapor and humid environments, or bearings that work in a certain concentration of acid or alkaline media, can use stainless steel (9Cr18, 9Cr18Mo). Bearing rings and rolling elements.
Use 0Cr19Ni9 or 1Cr18Ni9 or other austenitic stainless steel as a cage; if working in a corrosive medium with high ambient temperature, the bearing ring and rolling element are mostly high temperature stainless steel bearings (Cr14Mo4); for larger size corrosion resistant bearings , Mostly use 1Cr13, 2Cr13 or 3Cr13 and other semi-martensitic and martensitic stainless steel, after surface nitriding treatment is made, the cage applies stainless steel or beryllium bronze and other solid cages.

Sign up for our newsletter to stay up-to-date with our promotions, discounts, sales, and special offers.